The American Poolplayers Association was founded in 1979 by professional poolplayers Terry Bell and Larry Hubbart (pictured left). The two men realized the popularity of the sport and knew that, unlike other sports, there was no existing recreational league system. Back then the league was called the National Pool League. The name was changed to American Poolplayers Association (APA) in 1981.
Over the years, the APA Pool League has gone by many names, including The American Pool League, Busch Pool League, and Bud Light Pool League. Terry Bell and Larry Hubbart maintain positions on the APA's Board of Directors, and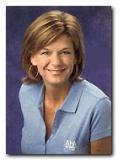 strive to create continued interest and growth in the sport of pool.
Reneé Lyle, (pictured right), has held the position of APA President since April of 1995. As President, she has total responsibility for overseeing the daily operations and future growth of the League. Former APA President Terry Bell appointed her to her position; when he stepped down to assume a position on the Board Of Directors.